Meet our Team
Our incredible team is here to serve you and your family.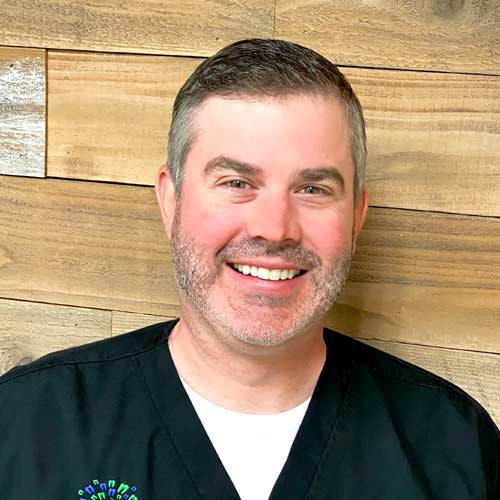 Meet Dean Lankford
From the age of 4 in Long Beach, Mississippi, Dr. Dean Lankford wanted to be a dentist. After growing up woodworking with his grandfather and learning how to live a good life, he went to University of Florida (Go Gators!) and graduated Magna Cum Laude.
Meet Sandhya Harpavat
Dr Harpavat practices dentistry with a "mom's touch" getting to know her patients and understanding their needs carefully. She wants her little ones and young adults to become confident adult dental patients, excited to care for and show off their beautiful smiles.
---
Meet Our amazing Team
Nearly every day, our patients tell us that our staff are some of the most friendly and professional people they've ever met. We completely agree! Allow us to introduce you to our fantastic team…
Registered Dental Hygienists
Dayna Rogers
Dayna has been a Dental Hygienist in the Houston area since 2000 and joined our team, full-time, in 2021. Although she has passion to help the elderly, she truly enjoys ALL of her patients and has a desire to educate them on improving their oral health. Away from work, Dayna loves spending time with her family. She is a devoted Mom of 5 and loves to travel (anywhere) with her husband.
Dayna's nickname growing up was "Smiley" and it's still fitting for today. Even though life can throw you many curve balls, she continues to laugh and know she's Blessed – life could always be worse!
Susie Torno
Susie is from the Clear Lake area and has three grown children, one grandson and a super cute dog named Collin Holly. She has been a hygienist for thirty-seven years. She loves meeting our patients and visiting with them about life. She strongly believes that building a relationship with our patients is extremely important. She loves the outdoors – especially fishing, gardening and being on the beach. Her most cherished time is spending time with her family.
Megan Pizzitola
Megan was born and raised in Wichita Falls, Texas, and moved to the Houston area in 2007. She started her dental career as a dental assistant with Dr Lankford in 2008. She then decided to go back to school to become a dental hygienist. She is the office prankster and enjoys making some of the best pranks on her coworkers. When not cleaning teeth and goofing off, Megan enjoys spending time with family and friends, traveling, and doing outdoor activities.
---
Registered Dental Assistants
Anna Davis
Anna has been a registered dental assistant for 18 years and has been working with Dr. Harpavat for almost 15 years. Anna enjoys her job, especially loves working with children and special needs patients . She strives to make the dental experience a great one for every patient and enjoys seeing her patients' faces light up with excitement when they walk through the door. She is also a wife and mother of 2 amazing girls. She spends her spare time going to Astros games and spending time with her family and friends!
Dawn Steel
Dawn has been a dental assistant for over 30 years. Her favorite part of her career, besides getting to know the patients, is boosting their confidence through cosmetic dentistry. She has worked with Dr Lankford since 2006, and been with him at this practice since 2015. She is a proud mother of two talented children and her hobbies include photography, art, and upcycling furniture. She doesn't like pulp in her OJ and the glass is always half full! 😉
Missi Shapiro
Missi has been in dentistry for 25+ years. She especially enjoys working in the field of Orthodontics. It brings her great joy watching how changing a person's smile can bring them so much happiness. She has worked with Dr Lankford for over 10 years. When she is not working she enjoys spending time with her family. She loves going to all the U of H sporting events. Go Coogs!! Missi and her husband Mark have been married since 2007. They have one son Jeffrey and an adorable dog Leia.
Vanessa Blanco
Vanessa has been in the dental field since 2010. She is highly skilled in Orthodontics and General Dentistry. She has been with Memorial Family Dental since June 2021. When she is not at work she loves spending time with her Son and 2 Daughters. Her hobbies include Arts and Crafts such as making shirts, cups, earrings, and other assorted items.
---
Administrative Staff
Heather Clemons
Heather is the office manager at Memorial Family Dental. She has been in the dental field since 2009 and has spent the entire time working with Dr Lankford and Dr Harpavat. She has a master's degree in business administration and uses her knowledge and experience to help the practice thrive. She helped us launch this practice in 2014 and has a lot of honor and pride in seeing it grow and succeed.
She loves getting to know our patients and will help in any way possible, especially when it comes to fighting with insurance companies to make sure they pay your claims.
She and her husband Michael have been together since they met in college and are still best friends. They live in Cypress with their 2 rescued fur babies that run the house. She loves reading mystery novels and watching scary movies and crime shows.
Dori Wienken
Dori has been in dentistry since 2006. She enjoys attending church with her family and has been involved in the Children's ministry for more than 20 years and can't wait for her next mission trip. She has been married since 2002 and has two children. Her son is grown and her daughter is enjoying her time away at Tech! She is always at the front desk with a smile ready to greet you and to answer your phone calls and questions. She is our early bird who opens the office up before the rest of us get here and has us ready to go. She loves seeing our long term patients and welcoming new patients to our practice. She loves binge watching Netflix and spending time with friends. She owns her own shop and makes amazing crafts, including signs, cups and custom earrings. She also loves cooking and baking pies and special gluten free recipes for her sister.
Leigh Ann McCall
Leigh Ann has been in the administrative field since 2009. Memorial Family Dental is her first dental office that she has worked in but it felt like home soon after she joined in 2017. She has caught on to the dental lingo well. She enjoys getting to know new and returning families and helping them feel comfortable as they visit with the dentists. She is always excited and happy to answer any questions patients have regarding Memorial Family Dental. She and the love of her life, Greg married in 2017. She has grown to love gardening since being with her "plant loving" husband. Together, they love to spend time outdoors camping and kayaking with friends and family. They became a family of 3 in January 2021, welcoming a sweet little girl. Leigh Ann has an entire room where she enjoys crafting, DIY and creating different projects with her vinyl cutting machine. She looks forward to the Texas Renaissance Festival every year and enjoys making her and her husband's costumes to wear.
Have Questions? Why not schedule a free initial consultation today?
Find us
We are easy to find, we are just a click away!
Address
12528 Memorial Drive
Houston, Tx 77024